e-book

INTANGIBLE CULTURAL HERITAGE MEMORIAMEDIA e-Museum - methods, techniques and practices

PATRIMÓNIO CULTURAL IMATERIAL MEMORIAMEDIA e-Museu - métodos, técnicas e práticas

Filomena Sousa

ISBN: 978-989-99397-1-4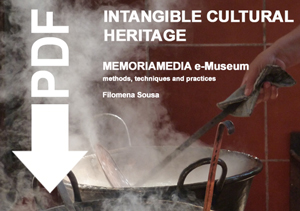 MEMORIAMEDIA aims to study, inventory and disseminate manifestations of intangible cultural heritage. These include oral expressions, performative practices, celebrations, traditional craftsmanship and knowledge concerning nature and the universe.
The results of the project are organised as a national inventory and published on www.memoriamedia.net, where they are freely available for consultation and sharing.
MEMORIAMEDIA began in 2006, in the midst of a broad national and international discussion regarding the issues of intangible cultural heritage. This book crosses such theoretical, methodological and technical questions with the characterisation of MEMORIAMEDIA.
Filomena Sousa is a Postdoctoral researcher in Anthropology (FCSH/UNL) and holds a PhD in Sociology (ISCTE-IUL). She is a member of the FCSH/UNL "Institute for the Study of Literature and Tradition - heritage, arts and cultures" (IELT) and an adviser of the Memória Imaterial – the non-governmental organization that created and manages the MEMORIAMEDIA project. She develops research projects in the context of policies and instruments for identifying, documenting and safeguarding intangible cultural heritage and has directed several documentaries about cultural expressions.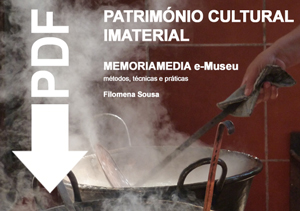 O projeto MEMORIAMEDIA tem como objetivos o estudo, a inventariação e divulgação de manifestações do património cultural imaterial: expressões orais; práticas performativas; celebrações; o saber-fazer de artes e ofícios e as práticas e conhecimentos relacionados com a natureza e o universo.
O MEMORIAMEDIA iniciou em 2006, em pleno debate nacional e internacional das questões do património cultural imaterial. Este livro cruza essas discussões teóricas, metodológicas e técnicas com a caracterização do MEMORIAMEDIA.
Os resultados do projeto, organizados num inventário nacional, estão publicados no site www.memoriamedia.net, onde se encontram disponíveis para consulta e partilha.
Filomena Sousa é investigadora de pós-doutoramento em antropologia (FCSH/UNL) e doutorada em sociologia (ISCTE-IUL). Membro integrado no Instituto de Estudos de Literatura e Tradição - patrimónios, artes e culturas (IELT) da FCSH/UNL e consultora da Memória Imaterial CRL – organização não-governamental autora e gestora do projeto MEMORIAMEDIA. Desenvolve investigação no âmbito das políticas e instrumentos de identificação, documentação e salvaguarda do património cultural imaterial e realizou vários documentários sobre expressões culturais.